We'd all like a little more space in our homes, but some of us feel more constrained than others. With the population of people living in so-called micro flats on the rise, it can be hard to know where to start when your decorating ideas are sorely limited by the fixed position of four very sturdy walls.
Sure, we could move to a bigger home, but who has the time (or the finances)? Plus, the current trend for simple living suggests that we could all do with trading the bigger and better mentality for a more low-key lifestyle, where creativity and thriftiness trump sprawling unused rooms and an excess of stuff. 
Better, then, would be to work with what we have. Instead of bemoaning our tiny abodes, we should learn how to maximise the space we do have. That's exactly what the designers of these 12 amazing apartments managed to do - check them out and be inspired…
1. The perfect functional yet aesthetically pleasing space. Everything a small living room needs is included – nothing more. Simplicity, pastels, and light wooden furnishings rule the roost.
2. Use textures and patterns to delineate certain areas- This apartment makes the most of the exposed stone wall, a minute, minimal kitchen and bohemian patterns to define the living, cooking and sleeping zones.
3. Want to create more boundaries? Build a partition wall and create a cosy bed nook. Keep colours light and simple, and give yourself bonus points if you manage to incorporate under-bed storage.
4. Use a change in levels to split the small space. In this small home, the larger room is used for living, relaxing and sleeping, but downstairs in this pastel kitchen is where the real work happens!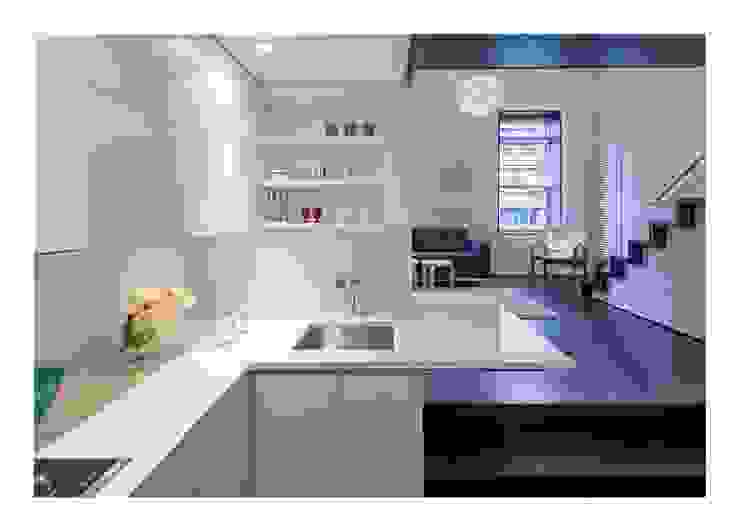 Manhattan Micro-Loft
Specht Architects
5. Who needs doors anyway? Introduce a light and open feeling to your home by dispensing with traditional doors and opting for small connecting corridors instead.
6. Small apartments can embrace the latest trends, too. This hip home uses botanic prints and Scandi patterns to split the space while keeping its cool.
7. Keeping colours light is a must-do in a small home. This apartment looks far bigger thanks to the inclusion of unobtrusive white furniture – barely-there shapes and tones draw the eye without overwhelming the senses.
8. If you really want to split your studio, try a glass bedroom. Sheer curtains can be pulled across for darkness and privacy, and in the morning they can be yanked back to make the room look instantly bigger.
9. Lovers of rusticity, this is the home for you! Timber beams, richly textured rugs and minimal decor are all you need. And remember – nothing saves space quite like a cosy mezzanine bedroom!
10. Even the smallest studios have bags of potential. This tiny apartment – more a single room, really – squeezes in a bedroom, a living room and a study area and still manages to look spacious!
11. Make the most of those unused walls. A tiny kitchen can be slotted into the most unexpected places – this option is perfect for students and professionals who love takeout food – just don't try hosting any dinner parties..
12. Our final stop is the piece de resistance! The designers knew that storage space is key in such a small apartment, and included secret cubbyholes everywhere! How many can you spot?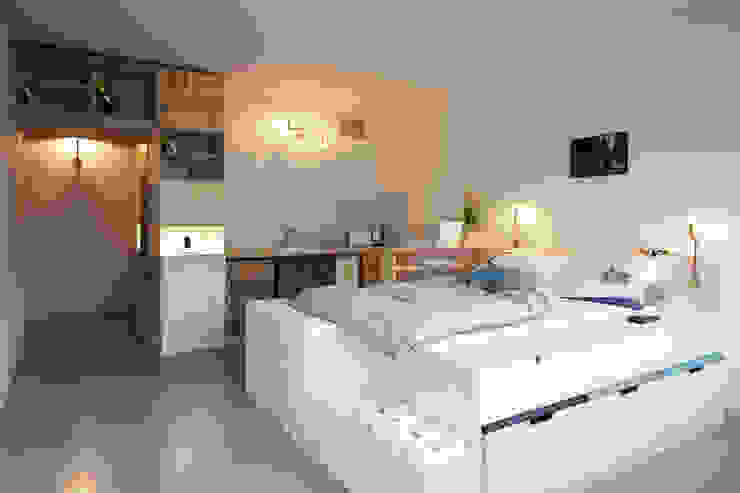 Main space
paola bagna