A beautiful home will never have the right amount of impact, if you don't give serious consideration to the added finishing touches that you look to put in place and today, we are talking about facade details. Any architect will tel you that selecting the right path, entrance accessories and even lighting will all be key to creating a cohesive and eye-catching facade that is impossible to forget and we're going to prove that to you today! Prepare to look at your front garden with renewed vigour for a revamp, as we have some amazing tips for you, right here!
1. A simple gravel and wood pathway certainly adds enough drama and beauty to finish this home wonderfully, as it has been kept so tonal.
2. Concrete steps might not seem glamorous, but add an inset flowerbed and all of a sudden, things look VERY pretty indeed.
3. Perfectly lit steps have managed to add a real sense of ceremony to the lead up to the front door of this home. What a clever and beautiful technique!
4. Teak stepping stones might be the ultimate in luxury garden pathways, but look at how well they match the external shutters and wood detailing. Divine!
5. Simple white concrete steps match the rest of the facade here wonderfully and have created a fresh, modern and impressive scene. So chic!
6. A touch of terracotta is no bad thing, especially when you use ceramic floor tiles AND huge planters! What a Mediterranean feel!
7. How fun! Private yet also pretty, the facade here has been elegantly tucked behind a custom bamboo screen! Talk about secluded!
8. Let's never underestimate the impact of stunning lighting on a home's facade. It really is the most incredible finishing touch, when done well.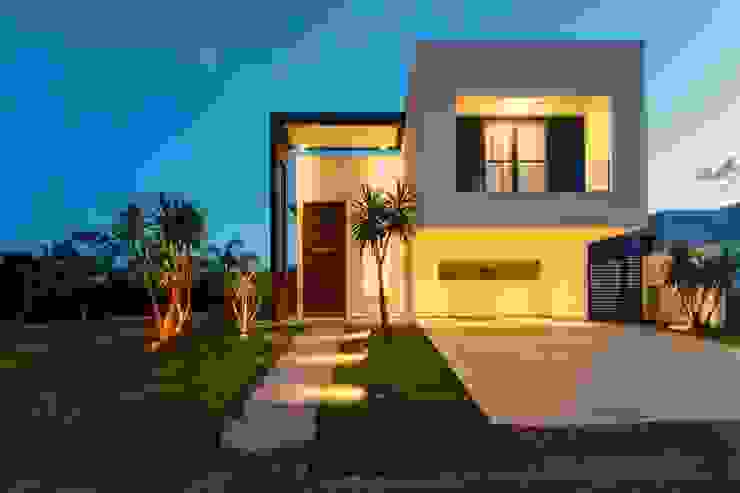 Fachada frontal
Tony Santos Arquitetura
9. Bustling flowerbeds are a lovely way to accompany your pathway, right up to your front door. What a stunning injection of colour and nature that really beautifies the house!
10. Maybe you like things a little simpler? Then how about sunken concrete stepping stones? A vision, in amongst the green grass, these stones are anything but boring or understated!
11. If you have the space, a perfectly planned and executed front garden is a tremendous way to give your facade a lift, not to mention making your neighbours green with envy!
12. Speaking of green, just look at this house! A vision in green, this is a veritable jungle and yet, it draws us in, instantly! A natural touch will always make a facade come alive.
13. Alongside a front garden, a neat driveway is also a stunning way to give your facade a facelift! There's just something about beautiful brickwork, don't you think?
14. For that upmarket look, your facade is crying out for some symmetry, so it's time to consider a pair of potted palms! We always think that large plants have such an impact on a home's entrance.
15. Nobody ever said that you need to keep your spiritual side for inside your home, so why not embrace it as a form of facade decor as well? Tasteful sculptures really are a stunning way to perk up your home.
For even more facade inspiration, take a look at this Ideabook: Small Yet Stylish Facade Transformations.